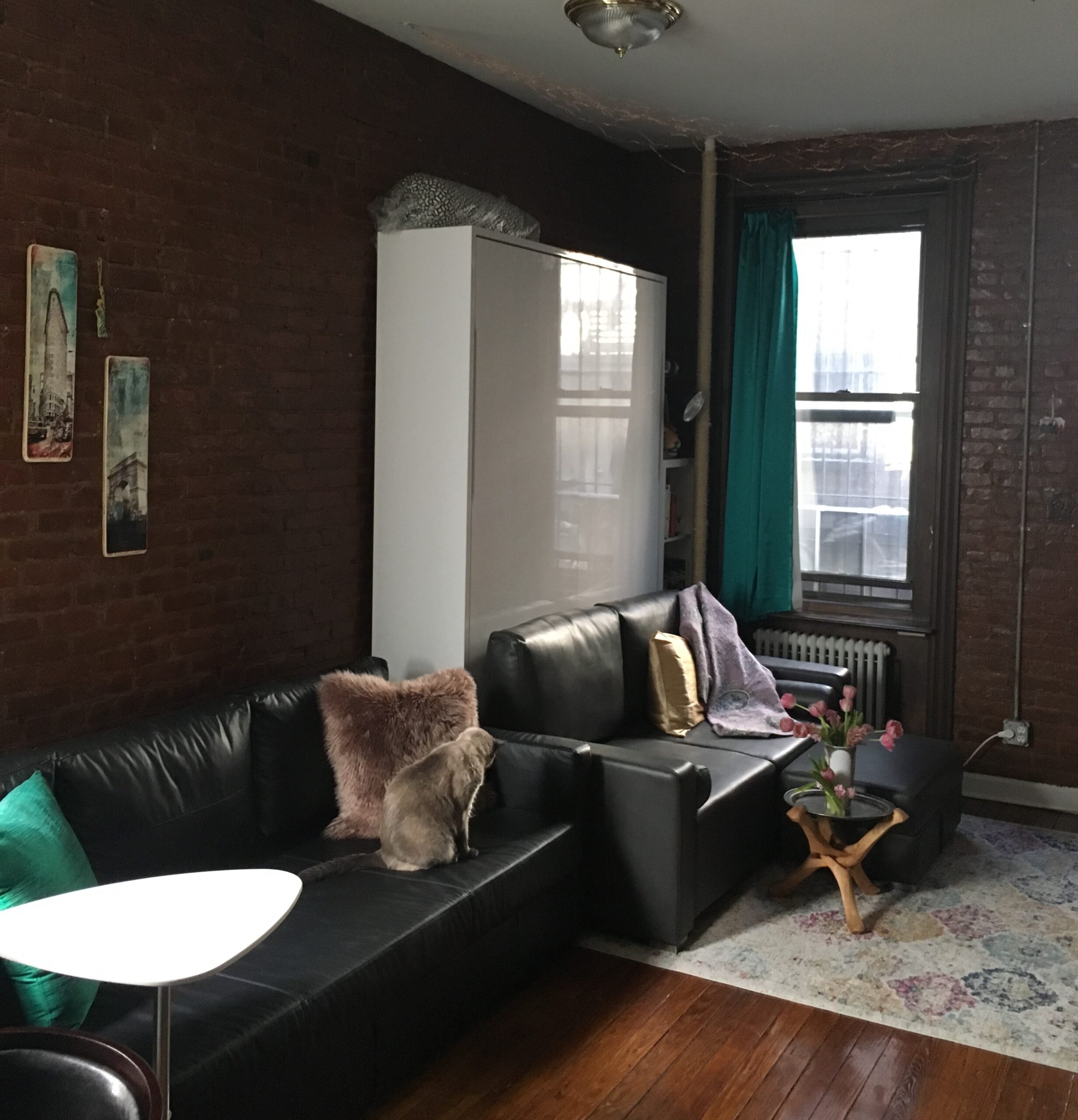 NYC Studio Apartment Tour + Murphy Bed!
Happy #WeeklyWednesday! Today's video is a tour of my studio apartment in NYC, featuring my Murphy wall bed, which has dramatically improved my quality of life!! I find videos like this interesting, fun, and helpful (especially when looking for tiny living tips, where every inch and item owned matters!); I hope you do, too, and thanks for taking the time to watch mine!
Products in the video (none of this is sponsored!):
From my evening/morning routine:
Details:
My studio apartment is approximately 300-315 square feet (~28-29 square meters). Ceiling height is 10 feet (3 meters), which lends a more spacious feel and allows for additional storage.
My Murphy bed is queen-sized, and I have a 10-inch mattress (I believe it's this one). The recommended thickness is 8-10 inches, and if you want to store the bed with thick bedding/pillows, you'd need a slimmer mattress than I have. The couch and movable ottoman have some storage space as well.
This model is not freestanding (most are not) – but it only uses 2 screws to attach to the wall behind it.
The Minima is a quick-ship option! It still took a few weeks to arrive, but many others can take several months. My boyfriend and I were able to assemble it ourselves.
*** The sofa is not attached to the bed cabinet! *** Essentially, you receive a complete Murphy bed/cabinet (looks a lot like this one) and a separate (backless) sofa. Why am I so excited about this? Because if I had known that, I would've asked if I could purchase the furniture in stages to make it more affordable (but have a real bed initially). Also, if you're a DIY-er, I'm sure you could find a less-expensive sofa-alternative! Further, being able to move the sofa makes cleaning and other tasks easier, and I've had no issues with it slipping or moving away from the cabinet.
Ask for discounts/special offers! Though it was not drastically less expensive, I didn't pay the full price shown. And all of it was still less than the broker fee for my apartment… (apart from the very high rents, the process to get a place in New York is very expensive and complicated!)
There was generally very little damage to the items in shipping – however, the ottoman did arrive with a wood support piece broken, and Expand has still not resolved this… Once they do, I'll store my pillow inside the ottoman… Customer service was good and pretty quick on the ordering end; not so much on this side – but I also haven't been very diligent about following up with them either because, well, grad school…
This bed/sofa is perfect if you plan to use it every day and really value the feel of a bedroom. I could not afford a bedroom in my Manhattan neighborhood, and I truly feel like I have one now! I'd recommend it for any space if the price isn't an issue for you. If it is and you only plan to use the bed for occasional guest usage, there are a lot of less-expensive freestanding options (here's an example).
Other stuff you may or may not care about:
I was trying to save space and money when I moved in – so initially I tried floor sleeping, but didn't love it – then an IKEA sleeper sofa – then added a mattress topper – which made it more comfortable, but a pain to regularly fold up…
A note about the IKEA Friheten… it's a pretty good, budget-friendly option, but they've modified the US version somewhat in the last couple of years – and I find it less comfortable than the older model. I first bought a Friheten when I moved back to CA in 2016 and found it very comfortable as my primary bed (also with a mattress topper). The model I bought in 2018 in NY has what seem like superficial changes, but I find it less comfortable for daily sleeping.
Because I'm home a lot and tend to be pretty affected by my environment, I ultimately ended up going with the Murphy bed/sofa option (and I love it!!). If I'd realized how much a difference it would make and that I could buy the pieces in stages, I would've purchased the Murphy bed initially and not gotten the IKEA sleeper sofa. Since I do have it (and managed to fit everything, including space for yoga and dance practice – this was literally calculated down to the inch!), I continue to use it and like that I can accommodate overnight guests.
I was looking for a Murphy bed/sofa combo – particularly one that came in leather or faux leather because of cat hair concerns – which limited my choices.
Thank you for taking the time to watch (and read this)! I hope it is useful – and please feel free to ask further questions!

Also – would you be interested in a separate video of some of my morning and evening "rituals"? As a performer, self-care is incredibly important for me to be able to do my work – particularly to handle the emotional strain it can be to tell certain stories (apart from ordinary life and grad school stresses!). I'd love to share some of what has been working for me if that's of interest 🙂
#AshleyWagnerArts