Enchanted Adventures Sing-along!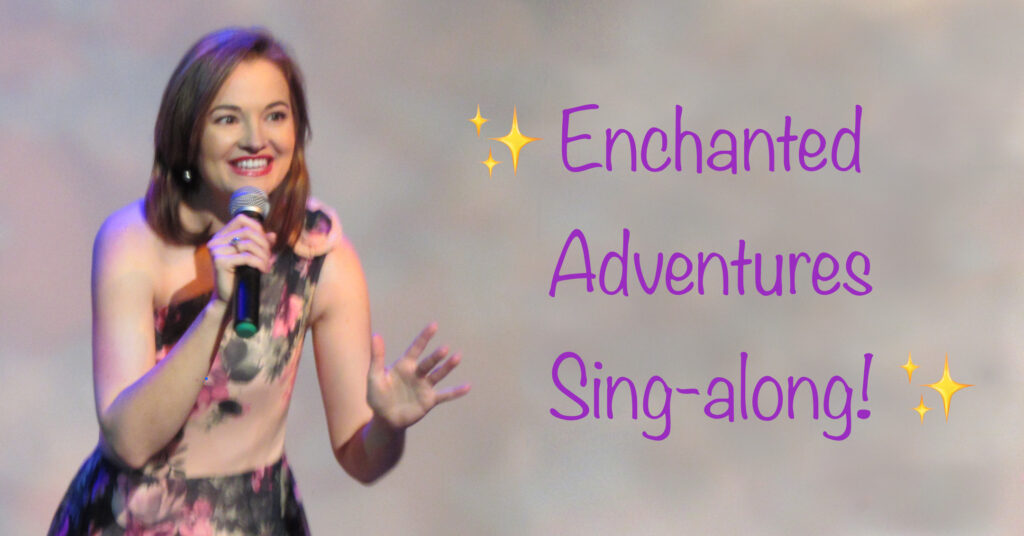 Now streaming!
Join me on a magical, storybook adventure, featuring classic songs from some of your family's favorite shows! I hope this program adds joy and sparkle to your day!
Download the lyrics to sing along!
This performance was part of the Chance Theater's annual fundraiser, Chance-a-thon. All proceeds go to the Chance to support live theatre!
Why am I supporting the Chance Theater (and why might you want to)? Because I firmly believe in their mission statement:
"Chance Theater is a wonderful artistic home that believes in the power of storytelling, supporting local artists, empowering young minds, and using the transformative power of live theater to create a more connected, compassionate, and creative community. Your support will help ensure that they will be able to open their doors to create and celebrate theatre, in-person, once more."
One way I've personally experienced the fulfillment of this mission is through this very fundraiser. Chance-a-thon is an annual fundraiser where performers like me can use their stages (including lighting and sound equipment, dressing rooms, etc.) simply by committing to raise an incredibly reasonable/low amount of money for them. I hope this doesn't sound too mercenary, but when I heard about this several years ago, I wanted to do it because I NEEDED a chance to be on stage again, to test out where I was going in my future – and I couldn't believe I could do it so affordably (and for a good cause). Even though I've never lived near enough to be actively involved in their theatre (as a performer or patron), I have felt the impact of their mission statement on my own life at a time when I desperately needed that. And so, I'm asking you to join me in supporting what I believe to be a very worthy cause, by purchasing a ticket to view my work ?
More about me:
My experience includes performing for Disney, a Master's in Musical Theatre (NYU), composing for Shakespeare plays, teaching/coaching privately, and providing customized children's entertainment. I aspire to help every person feel appreciated, seen, and supported, and I'd love to work with you!
I am currently offering personalized video character greetings for birthdays, special events, and other times when someone in your life needs a little pick-me-up.
I would love to brighten your loved one's day by portraying one of their favorite fairytale princesses and other characters!